HOUSTON, Texas. For years, women have been reporting harassment only to be ignored by human resources and their managers (and many more have not been reporting harassment they have suffered due to the fear that they would be ignored or would be retaliated against). Unfortunately, all too often, the focus is on men when these claims come to light. The media (and other men) worry about the men's careers and empires, once again silencing women and their stories. Yet, women-owned businesses may be changing this narrative. These businesses may offer real guidelines for best practices that other businesses can follow.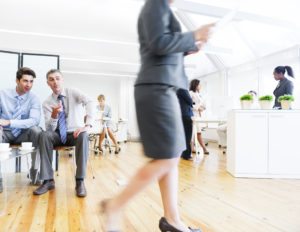 One female chef recently wrote in the Washington Post about how her restaurant handled harassment from customers. The chef learned that she had been in the dark when it came to sexual harassment claims from her employees. Male managers had dismissed the women's concerns and reports. The chef realized that she needed to change the dynamic. Namely, men should not be the ones making judgement calls when women report harassment. So, the women got together and devised a color-coded system. Weird and sexualized customer behavior could be labelled "yellow" "orange," or "red." When servers or workers reported the color, managers were required to take specific actions. For example, a red would result in the customer being asked to leave. With an orange, the manager would take over the table. With a yellow, the staff member had the option of asking the manager to take over.
Is this a reasonable solution to tackle sexual harassment? While it is indeed innovative, it doesn't necessarily address the needs of women who had been silenced in the past. What happened to managers who ignored these women? What happened to the women who suffered harassment?
One problem might be a lack of female managers. This is good business strategy outside the restaurant field. Forbes reports that teams with both women and men in leadership and management roles are more creative and productive. Yet, companies have a responsibility to promote and identify women who can take on these roles.
What happens when teams are diversified? Women may have more mentors and may also have others to turn to if harassment occurs.
As more women run companies and take on leadership roles, we might see more success stories where the narrative is changed. However, until this happens, women often face unique challenges when reporting sexual harassment or seeking equal pay in the workplace. Moore & Associates are Houston, Texas employment lawyers who work closely with individuals who want to report harassment and those who may have lost their jobs or left a job due to harassment. Sexual harassment leads to lost opportunities. It can push women out of jobs for which they are qualified. If you have experienced sexual harassment on the job, you may have certain rights under the law. Contact Moore & Associates, sexual harassment lawyers in Houston, Texas today to learn more.
Moore & Associates
440 Louisiana Street, Suite 675,
Houston, TX 77002
(713) 222-6775