HOUSTON, Texas. The impact that sexual harassment can have on the careers of women and on the women who surround them is immense. Sexual harassment does more than impact the career of a single woman. If a woman ends up leaving a field or job as a result of sexual harassment, other women lose a role-model or mentor who can help them see possibilities for themselves. The loss of women in major roles means fewer women to promote women and fewer role models for young women and girls.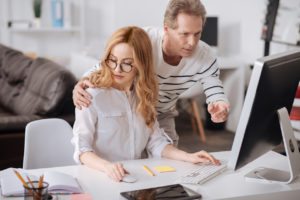 A recent article in the New York Times explores how one woman's career was affected by a sexual harasser. She had worked as a law clerk to a judge whom she accused of sexually harassing her during the early days of her career. The sexual harassment went on to impact her long into the future. She gave up jobs as a law professor because she didn't want to encounter her harasser at these jobs. The trauma of being in an environment similar to one in which she was harassed led her to ultimately leave the profession. For women who were inspired by her work, her leaving the field was baffling.
The author writing for the Times notes that the woman was allegedly harassed by a judge who was considered a "feeder judge" to the supreme court. This means that other women might have faced similar barriers if their aspirations were to achieve jobs at the supreme court.
How many women have lost out on important opportunities because of sexual harassment? Recent stories about women who have lost out on recommendation letters, job advancement, and those who just left a field because the trauma was too great have filled the media.
However, women don't have to be aspiring to leadership roles to face serious repercussions from sexual harassment. While women in higher-paying jobs like management, real estate, and the arts have seen some improvement when it comes to reported sexual harassment, women in lower paying jobs, like hospitality and food services may not be supported Newsweek reports. As many as two thirds of women working in fast food restaurants suffered sexual harassment from their managers. Women in these industries may not have the same recourse that women in high-powered industries have. If a woman in a prominent tech company writes about sexual harassment, it's a news story. If a poor migrant farm worker gets sexually harassed and writes about it, she can lose her job and possibly face removal from the country.
At the end of the day, if you are facing sexual harassment at any job, it is important to understand that you have rights. However, protecting those rights can sometimes be challenging. Consider speaking to the sexual harassment lawyers at Moore & Associates in Houston, Texas today. Our employment law lawyers can work with you to help you get the recovery or justice you may deserve under the law. Visit us at https://www.mooreandassociates.net/ to learn more.